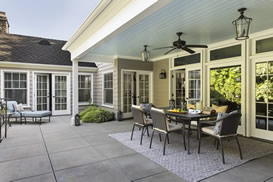 Pierce Construction provides high quality, custom home construction services in Southern California. Founded in 1975, we are a family owned and operated business that takes great pride in achieving the highest quality of workmanship.
Paul Pierce Sr. has been in the construction industry for more than 40 years. He started the business in 1975 with the intent of becoming a successful and reputable home builder. Through hard work and determination, he has found success by providing reliable, consistent building quality and client care. His solid commitment assures you can be certain that every home construction detail will be managed by a master builder.
Paul Pierce Jr. grew up around tools and construction sites. As a natural part of his daily life, he continues to work side-by-side with his father as an integral and important resource for the business. His experience has awarded him the title, "Jack of all Trades," and his leadership with our various subcontractors provides ample talent for any construction need. His responsibilities include smooth-running, on-time, and on-budget projects. His experienced, natural attention to detail ensures a pleasing project result for all.